Source: ACI-LAC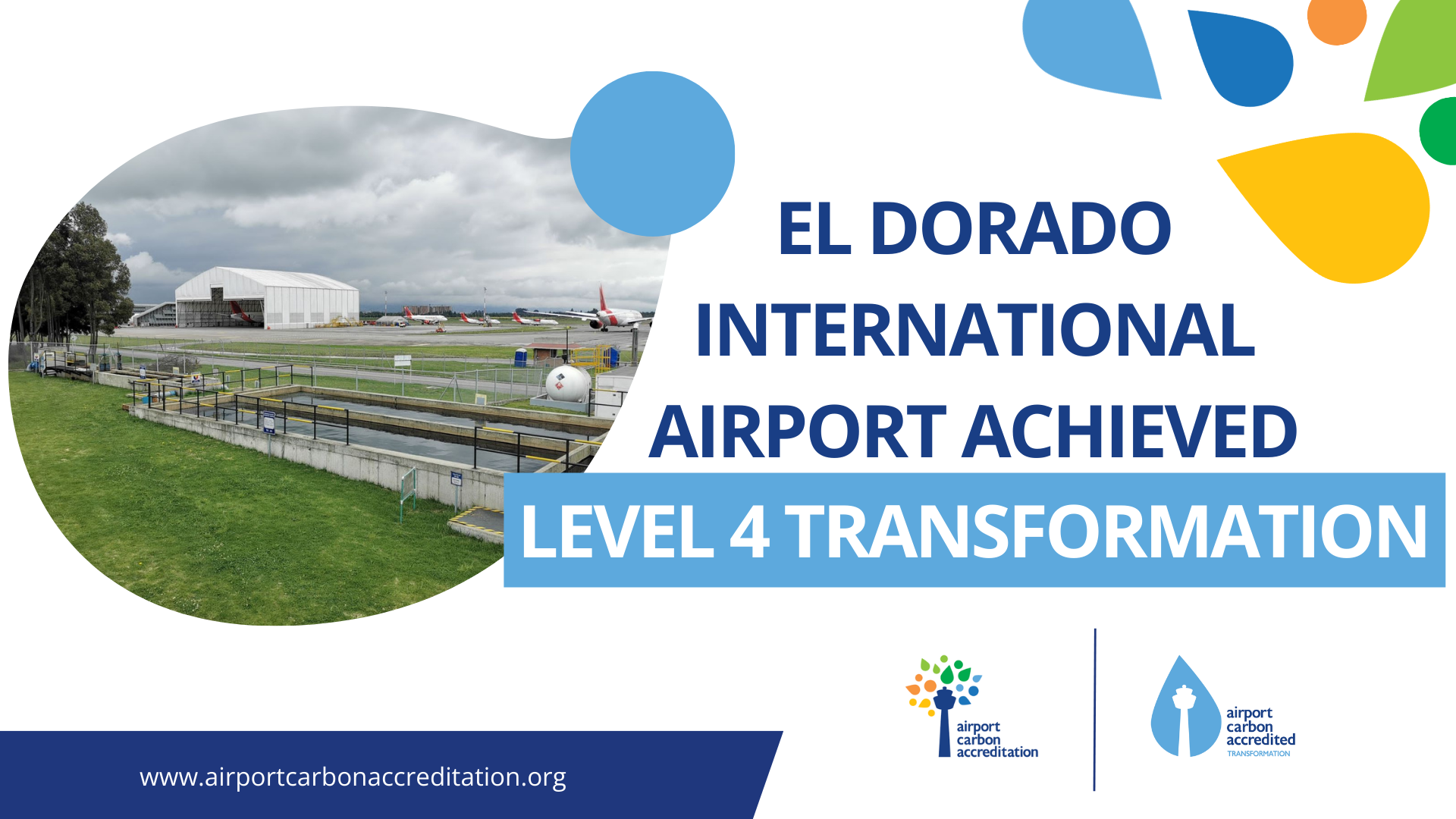 Airports Council International – Latin America and the Caribbean (ACI-LAC) proudly announces that El Dorado International Airport, located in Bogota, Colombia, has achieved a significant milestone by becoming the first airport in the Latin America and Caribbean to achieve Level 4 "Transformation" in the ACI Airport Carbon Accreditation program.
The ACI Airport Carbon Accreditation program is a leading global initiative designed to recognize and encourage airports' efforts to measure, manage, and reduce carbon emissions. The program offers six progressive levels, starting with 'Mapping' and culminating in the highest level of 'Transition', demostrating an airport's commitment to sustainable practices and carbon neutrality.
Level 1 'Mapping': The airport maps its carbon footprint, identifies sources, and calculates annual emissions.
Level 2 'Reduction': The airport demonstrates emissions reductions with evidence of procedures and compliance with carbon management targets.
Level 3 'Optimization': The airport expands the scope of emission reductions and involves third parties.
Level 3+ 'Neutrality': The airport meets the requirements of the previous stages and offsets the remaining emissions with carbon credits.
Level 4 'Transformation': The airport defines a long-term carbon management strategy targeting absolute emission reductions.
Level 4+ 'Transition': In addition to complying with the above steps, the airport offsets the residual carbon emissions over which it has control.
This remarkable achievement by El Dorado International Airport is a testament to its unwavering dedication to sustainability and environmental protection. By achieving Level 4, "Transformation," the airport has demonstrated its leadership in aligning carbon emissions management with global climate goals, transforming its operations with total emissions reductions while reinforcing its commitment to stakeholders by driving positive change within the aviation industry.
"El Dorado International Airport's achievement is admirable and sets an inspiring precedent for airports throughout Latin America and the Caribbean," said Dr. Rafael Echevarne, Director General of ACI-LAC. "Its commitment to reducing carbon emissions and adopting sustainable practices shows the airport's determination to create a greener and more sustainable aviation sector."
Achieving Level 4 "Transformation" requires a comprehensive approach to carbon management, including significant carbon emission reduction measures and stakeholder engagement, jointly address environmental challenges. El Dorado International Airport initiatives have included:
Investing in renewable energy sources.
Adopting energy-efficient technologies.
Promoting waste reduction.
Participating in community carbon offset projects.
"We are incredibly proud to be the first airport in Latin America and the Caribbean to achieve Level 4 'Transformation' in ACI's Airport Carbon Accreditation program," said Natali Leal, General Manager of OPAIN. "This achievement reflects our commitment to sustainability, our passengers, and our local community. We continue to hold strong to our efforts to enhance our environmental performance."
Find the full list of accredited airports and more information about the programme here: www.airportcarbonaccreditation.org